We provide complete systems to service your fleet or heavy equipment.  We can develop a system that will respond to your specific needs to help build in efficiency and profitability to your PM service unit.
---
Lube Skids can be engineered to your specific size and material requirements.  We tailor them to your specific service, flow requirements and include all necessary valving, fittings and accessories to get you up and running.
---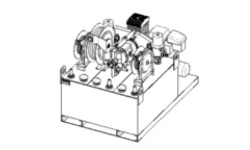 ---
Lube Skid Features:
High Performance Pumps: to reduce downtime and maintenance issues
Premium Fittings: lower line loss for fill and dispense and ensure durability
Rugged Construction: double welded joints for a rigid tank structure
Integrated Product Dispense: sized and located to suit your needs
Our systems are designed to be efficient with your valuable space and we help guide you through capacity selection based on your truck platform and available power.
We will be making more information available in the near future.